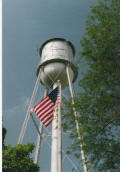 Welcome to MaitlandMo.com, the online community for Maitland, located in Holt County in northwest Missouri.

Maitland, pop. 342, is a thriving, pleasant community best known for its friendly progressive people, the excellent Nodaway-Holt Schools and Trojans sports, and a rich history.

Maitland was established in 1880, and was once known as the Bluegrass Capitol of the World, home to the largest bluegrass farm in the world and was a major shipping center for cattle.